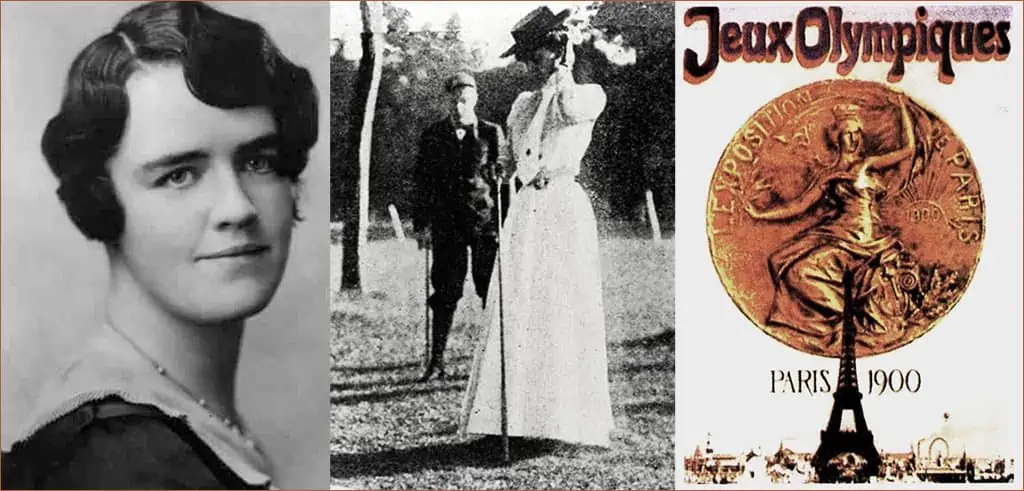 How do you win an Olympics event without even knowing it? That's the story of this Wednesday's Woman — Margaret Ives Abbott (1878-1955), America's first female Olympic champion. She played in and won the women's nine-hole golf tournament at the 1900 Paris Games. Her prize? A gilded porcelain tournament bowl that she never knew was an Olympic honor.
First Olympiad to allow women
The 1900 Olympics were widely seen as an afterthought to the Paris Exhibition, or World's Fair. It was the first Olympiad to allow women to compete and the only one to award prizes instead of medals.
Events were spread over almost six months, held at run-down venues, and included games of tug of war, pigeon racing and kite flying. But the Games were so badly organized and under-publicized that many of its athletes never knew they were competing in the Olympics.
Margaret Abbott died in 1955 never knowing of her triumph.
Abbott, a member of the Chicago Golf Club, happened to be traveling in Paris with her mother at the time. She entered the international competition on a lark, thinking it was just another tournament.
In fact, she would later tell her family she won the event "because all the French girls apparently misunderstood the nature of the game — and turned up to play in high heels and tight skirts."
Nine hole tournament
But Abbott won the nine-hole tournament in 47 strokes, accepted her game prize, and figured that was that. It would only be through years of dedicated detective work and research by a University of Florida professor that her status as the first female olympic champion came to light.
Margaret Abbott died in 1955 never knowing of her triumph. The 1900 Paris Games marked the first time golf appeared as part of the Olympics; it would not return for over a century until the sport was included in the 2016 Rio Games.
Today you'll find Margaret Abbott's name inscribed on a wall plaque at the United States Olympic Committee's headquarters in Colorado, along with those of every other celebrated American Olympics champion.