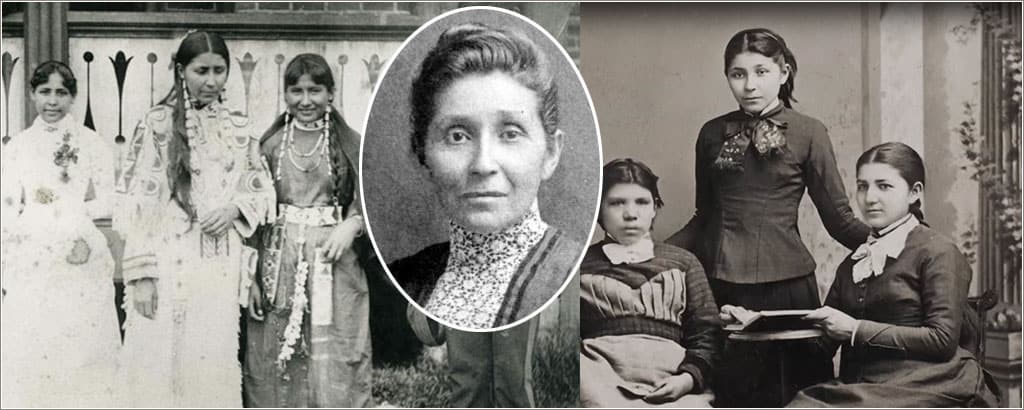 The idea that "it was only an Indian and it did not matter" if a person received adequate medical care or not changed the life of Dr. Susan La Flesche Picotte (1865-1915), the first Native American woman in the United States to receive a medical degree.
She was born on the Omaha Reservation in the Nebraska Territory in 1865. Her parents were of mixed race — her father, Joseph La Flesche (Iron Eye), was the last great chief of the Omaha tribe; her mother, Mary Gale (One Woman), the daughter of the first army physician posted to Nebraska and his wife, an Iowa tribeswoman.
At the age of eight she sat by the bedside of an ailing Omaha woman, watching as her condition worsened throughout the night. The local white doctor was called four times; four times he promised to come. He never showed up, leaving the woman to die.
Dr. Picotte later recalled, "It was only an Indian and it did not matter." That experience haunted her, fueling her ambition to become a doctor. With the arrival of white settlers, her father understood the Omaha way of life would forever change. He realized the importance of education and assimilation. So, after an early education at the mission school, Susan was sent 1300 miles East to expose her to white culture and better educational opportunities. There, she attended the Elizabeth Institute for Young Ladies in New Jersey before coming home at 17 to teach at the reservation's Quaker Mission School.
After two years, she returned East to attend Hampton Normal and Agricultural Institute in Virginia, one of America's first and finest schools of higher education for non-white students. There, the school physician encouraged her to apply to Women's Medical College of Pennsylvania — the first medical school in the country established for women.
With $167 in tuition funding from the US Office of Indian Affairs, she became the first person to receive federal aid for professional education, graduating from WMCP in 1889 as class valedictorian. She could suture wounds, deliver babies and treat tuberculosis with the best of them; but, as a woman, she couldn't vote — and as an Indian she wasn't even considered a citizen under U.S. law.
Some winters she saw more than 100 patients a month, traveling across the reservation on horseback or by buggy.
After a medical internship in Philadelphia she returned home to practice. Some winters she saw more than 100 patients a month, traveling across the reservation on horseback or by buggy. During the course of her career, she served more than 1,300 people over 450 square miles, giving financial advice and mediating family disputes while providing medical care at all hours of the day and night.
In 1894 Dr. Susan La Flesche met and married Henry Picotte, a member the Sioux tribe. She successfully managed her private practice while raising two sons, advocating for improved health care for Native Americans, and caring for her husband, who died of tuberculosis exacerbated by alcoholism in 1905. A year later, Dr. Picotte joined the temperance movement and led a delegation to Washington, DC, to lobby for the prohibition of alcohol on the reservation.
One year before her death, frail and suffering from ill health, she realized a dream when, through a private fundraising effort, she was able to open a hospital in the reservation town of Walthill, Nebraska. Later named the Dr. Susan Picotte Memorial Hospital, it served Native Americans and whites for more than 30 years before closing in the 1940s.
Dr. Susan La Flesche Picotte died of bone cancer in 1915 at the age of 49. During her lifetime, she had found common ground between whites and the members of her Omaha Nation while never abandoning her roots. Her reservation hospital in Walthill, Nebraska, is now a community center that bears her name. It was declared a National Historic Landmark in 1993.