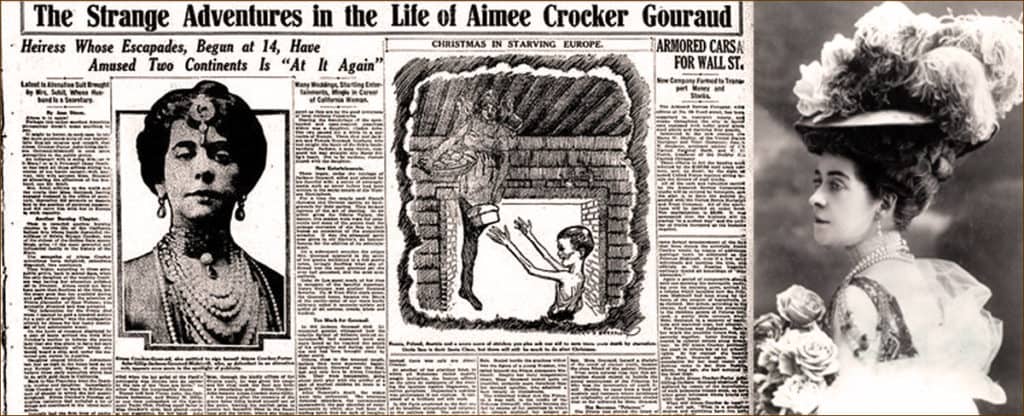 By the time 19th century Bohemian Aimée Crocker's wild ride of a life was over, this was her name history: Aimée Crocker Ashe Gillig Gouraud Miskinoff Galitzine. But when it comes to surnames or husbands, who's counting? This late 1800's railroad heiress was born into enormous wealth in 1864, when women were expected to be shy, docile, retiring creatures who graciously accepted their roles as quiet spectators in the game of life. But shy, docile and retiring were simply not part of Crocker's DNA.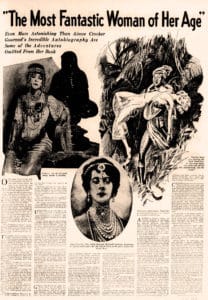 Flamboyant misfit
Had she been living today, she would have been the selfie queen; gossip TV shows and tabloids would have had a field day with her. A true progressive who disdained prejudice of all kinds — racial, sexual and gender — her radical beliefs made her a target of societal disapproval. She was a flamboyant misfit, but one whose appeal still manages to captivate our imagination and touch the secret wild child in each of us.
Aimée Crocker was a spellbinding storyteller who never let facts get in the way of a ripping yarn — certainly not when it came to the story of her life. Her good friend, Oscar Wilde, once famously said of her, "The only thing worse than being talked about is not being talked about." So let's talk about her.
She laid claim to at least five marriages (including two Russian princes); too-numerous-to-count love affairs; at least three tattoos; and a never-say-no attitude when it came to all the adventures the world had to offer the fabulously rich.
Shamelessly provocative
An explorer; poet; mother; wife; lover; philosopher and larger-than-life personality, she gloried in being shamelessly provocative, An indomitable spirit and all-around badass, she chewed up and spit out every sexist, racist norm of the Victorian era.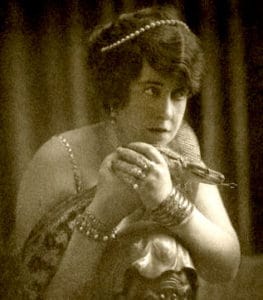 At a time when other women were just beginning to venture out into the public sphere, Crocker was trekking through tropical jungles, sailing across the open seas and racing on horseback with the locals on Hawaii's beaches.
A wonderful description of her was that she was "remarkably louche" — louche being a ritzy word for someone who is disreputable or sordid, but in an appealing way.
Fling with a Spanish Toreador
As a young girl growing up in California, she was taught to swear by the sailors who frequented San Francisco's docks. Her parents sent her to a finishing school in Dresden, where, at age 16, she became engaged to a German prince. But after she broke off the engagement, she promptly fell under the spell of a dashing Spanish toreador before her family could save her.
Once back in the United States, Crocker scandalized her family by eloping with Richard Porter Ashe, another prominent San Franciscan, only to divorce him when she realized he was spending far more time and money at the racetrack than with her. While at a party, a casual invitation from King David Kalakaua to visit his tropical paradise was all it took for Crocker to hire a 70-foot schooner and a rowdy crew to take her to Hawaii, where she delighted in racing along its beaches on horseback, danced the hula and wore local dress. Needless to say, the missionaries who had been sent to convert the islanders were not impressed. But King David Kalakaua was — he bestowed upon her a Hawaiian name and declared her princess of a small island of some 300 inhabitants.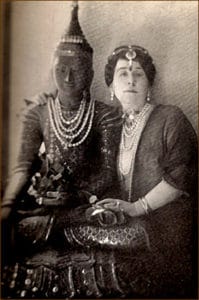 Feudal warlord in China
She next went to Tokyo, where she lived as an aristocrat and took up with a Chinese feudal warlord who spirited her off to Shanghai on his yacht festooned with exotic silks. In Indonesia, Crocker is said to have accompanied a Bornean prince to a remote jungle village where, after taking in the lush greenery and marveling at the profusion of wildlife, she found herself the target of locals trying to kill her for fear their prince intended to take a white woman as his eventual queen. She somehow managed to escape in a dugout canoe, floating downriver for days before reaching a Dutch settlement. That hair-raising escape would mark Crocker's last Asian adventure.
Once back home, Aimée Crocker contented herself by collecting — Buddhas, pearls, tattoos, husbands, lovers, snakes, and wealthy, eccentric friends. She threw outrageous parties where she might show up dressed as an Egyptian queen or make a grand entrance on an elephant, distribute live chameleons as party favors and perform one-woman magic shows.
In 1941, when, as she regretfully put it, she was "too old to play," Aimée Crocker died of pneumonia at age 78 in her lavish apartment at the Hotel Savoy Plaza in New York City. She was buried in her family's plot in California's Sacramento City Cemetery.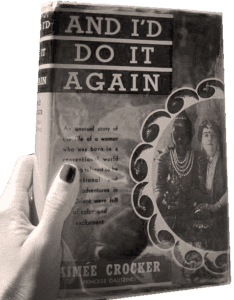 Audacious autobiography
She fell out of the public eye and disappeared from the public record for decades until her 1936 audacious autobiography, And I'd Do It Again, was reissued in 2010 and her in-your-face hedonism and joyful flaunting of social morés inspired a new cult following. Nearly 80 years after her death, in the Spring of 2018, fashion label Marchesa released a line inspired by her world travels the same year San Francisco's Crocker Art Museum, founded by her family, threw a birthday bash where snake charmers, belly dancers, fortune tellers and tattoo artists were on hand to entertain an admiring crowd of about 1400.
Bohemian darling Aimée Crocker — five-times married and adored by many, who lived in a Javanese hut and a paper house in Japan, spent two weeks in a Rajah's harem, and caused several duels to be fought over her in Paris — would have had one helluva a good time.