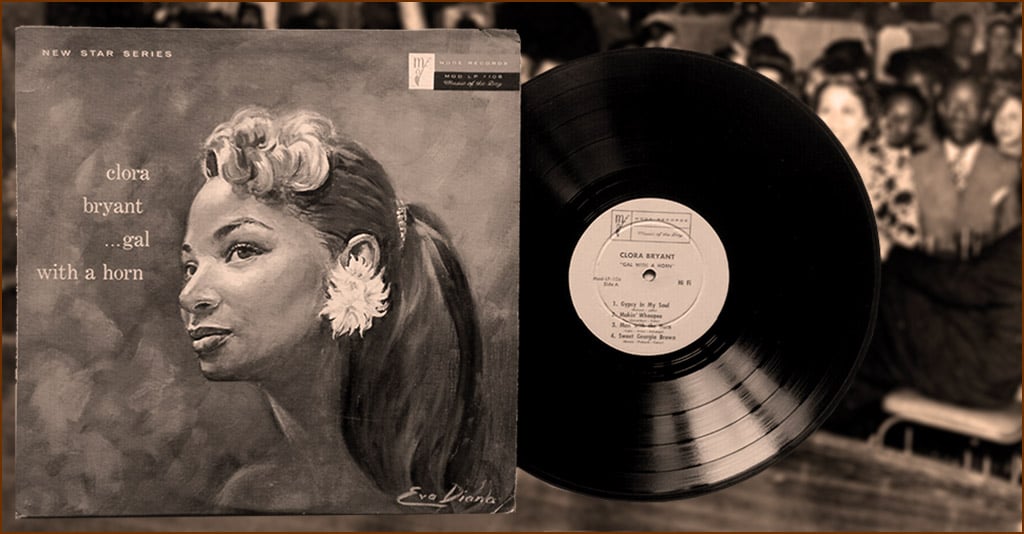 Think of jazz trumpeters from the 1940s, and names like Louis Armstrong, Miles Davis and Dizzy Gillespie come to mind. But one name you may not know belongs to a woman who could hold her own with all three of them. A product of the West Coast jazz scene, her name was Clora Bryant, who called herself a "trumpetiste."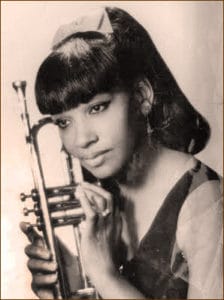 Clora Bryant was born in 1927 and raised in Denison, Texas, by her father, a day laborer, who supported his family on $7 a week. Like many young people, Bryant discovered the trumpet when her high school started an orchestra and marching band. Turns out her brother had left his trumpet behind when he was drafted into the military. An uncle who played the saxophone taught her trumpet fingerings, basic scales and got her started with beginner songs. After she picked up odd jobs to pay for lessons from the band director, she began playing in the school's swing band.
'Behind you all the way'
Bryant always credited her father with her success. Although she recalled, "nobody ever told me, 'you can't play the trumpet, you're a girl'", her father clearly understood the challenges his daughter would face, telling her, no matter what, "if you're going to do it, I'm behind you all the way."
She graduated in 1943, with scholarships from Bennett College in South Carolina and Ohio's Oberlin Conservatory of Music. But she turned them down in favor of Prairie View A&M University outside Houston on the strength of its 16-piece, all-female swing band — the Prairie View Coeds — and strong jazz program. Prairie View, established in 1876, was the first Texas state-supported college for African American students. Bryant toured with the Coeds, even appearing at Harlem's famed Apollo Theater in 1944.
It was when her father got a job in a shipyard near Long Beach, CA, that he brought the family to Los Angeles in 1945. But because Bryant arrived in January, when classes were already filled, she had to wait until spring of 1946 to enroll in a nearby college.
UCLA and big break
Once Bryant transferred to UCLA, it wasn't  long before she discovered Los Angeles' Central Avenue and its world-famous swing clubs with names like Club Alabam, The Downbeat and The Bird in the Basket (a.k.a. Jack's Basket Room). But, being underage, she could only stand outside and listen.  That said, she never showed up without her horn, knowing if she were ever invited in she would get the chance to play and learn from the best.
And did she ever. By 1946, Bryant was playing as a featured soloist for the International Sweethearts of Rhythm, America's foremost all-female, integrated swing ensemble (video below). She also led jam sessions around Los Angeles, playing with house bands and backing up visiting stars like Billie Holiday and Josephine Baker before she started mentoring younger musicians.
Clora Bryant married fellow musician and bass player Joe Stone in 1948 and started a family. She continued to perform while pregnant and raising her children. It wouldn't be until the 1970s and '80s that Clora Bryant really hit her stride, forming and fronting her own group called Swi-Bop and touring internationally. It became a family affair when her brother began singing with the group and her son signed on as Swi-Bop's drummer. Around the same time, she picked up her studies at UCLA and managed to complete her B.A. in music when she was in her fifties.
Mikhael Gorbachev
In 1988, as America's Cold War with Russia showed signs of thawing, Bryant was inspired by Dave Brubeck's decision to take his music to Moscow. In a bold-as-brass move, she wrote to Soviet leader Mikhael Gorbachev, telling him she wanted to be "the first lady horn player invited to perform in your country." Whether he admired her horn-playing or was won over by her gutsy letter, Gorbachev's cultural minister took her up on it — Bryant was invited to tour the Soviet Union the following year.
By the early 1990s, work was scarce and Bryant was living with her son on Social Security in his apartment; two of her horns were in the pawnshop and most of her possessions had burned in the 1992 Rodney King riots. She retired in 1996 on doctors' orders after undergoing a quadruple bypass for a heart attack, but was determined to preserve and pass down the West Coast jazz legacy, lecturing at colleges and universities, working with grade schools in and around Los Angeles, and coediting a book on the history of jazz in her city.
In 2002, the Kennedy Center awarded Bryant a lifetime achievement medal at its Mary Lou Williams Women in Jazz Festival, where, now in her seventies, she sang some of her own works, flanked by younger musicians.
Heart attack in 2019
Clora Bryant died of a heart attack at the age of 92 in 2019 at Cedars-Sinai Hospital. She was featured in the 2014 film The Girls in the Band and was the subject of a 1989 documentary titled Trumpetistically, Clora Bryant. And if you find yourself on Central Avenue, the Jazz Park mural across the street from some of its legendary clubs features her among their most famous performers to grace the Avenue.
Considered one of the West Coast's finest jazz musicians, she was the only female trumpeter to play with Dizzy Gillespie, who considered her his protégé, and Charlie Parker. When he heard her play, Gillespie paid Bryant what, to him, must've seemed the ultimate compliment: "If you close your eyes, you'll say it's a man playing." And when asked why greater recognition had eluded her, saxophonist and frequent bandmate Teddy Edwards could only shake his head, saying, "you know, she's as good as any man. She has range and ideas and enough talent to go to the top."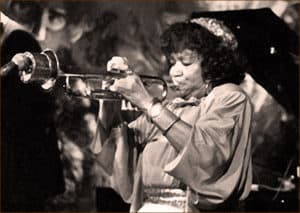 Her son agreed. "It was a man's world and that made it hard for her. But it only fueled her fire, made her more determined." He wasn't the only one who recognized Clora Bryant's fire. Dick Wagner, staff writer for the Los Angeles Times, once wrote, "when Bryant plays, the sound is low, almost guttural, a smoldering fire … but when she plays a fast tune, that fire erupts."
Despite nobody ever telling her outright she couldn't play the trumpet because she was a girl, Clora Bryant fought gender discrimination most of her life, until middle age, telling National Public Radio in a 1993 interview, "those male trumpeters guard those positions like a bulldog on a bone. We got a tough row to hoe with the trumpet."
Other Female Jazz Trumpeters of Note:
VALAIDA SNOW: Jazz pioneer and "Queen of the Trumpet," Louis Armstrong called her the "second best trumpet player" in the world, after him.
DYER JONES: Born circa 1890. Played trumpet in pre-jazz era bands before moving to NY in the late '20s.
DOLLY JONES: Daughter of Dyer Jones. Learned from her mother, but was mainly self-taught. Performed in Chicago in the 1930s with Lillian Armstrong's Harlem Harlicans as well as in Eddie Durham's All-Star Girl Orchestra.
CYNTHIA ROBINSON: Best known for being the trumpeter/vocalist in Sly and the Family Stone. Her voice and presence featured in the 1968 hit "Dance to the Music."