You may not know her name, but this Wednesday's Woman, Dr. Virginia Apgar, touched the lives of everyone born in the United States after 1952 within moments of their birth with a simple test that changed the field of neonatology forever.
Throughout her career, Dr. Apgar was dedicated to saving lives. So much so, she never went anywhere without a simple resuscitation kit that included a penknife and length of plastic tubing she could insert into a patient's windpipe to create an airway. "Nobody, but nobody, is going to stop breathing on me!" she once declared.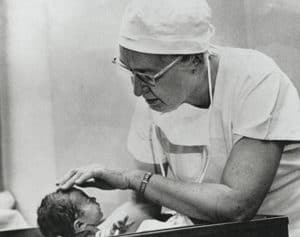 Jersey Girl
A Jersey Girl born in 1909, Virginia Apgar had her eye on a career in medicine before she entered high school. With the help of several scholarships, she enrolled in Mount Holyoke College in 1925, majoring in zoology while supporting herself with part-time jobs and performing in the college orchestra as a violinist and cellist.
Apgar graduated in 1929, just as the Great Depression hit. She took her medical training at Columbia University's College of Physicians and Surgeons, one of only nine women in a class of 90. Earning her medical degree in 1933, she went on to intern at Presbyterian Hospital (today's New York-Presbyterian Hospital/Columbia University Medical Center).
Her goal was to become a surgeon. Unfortunately, despite an obvious talent for surgery, her mentor, who was chair of the Department of Surgery, understood that economic prospects for female surgeons — not great in the best of times — would be even worse during the Depression. But he also knew there was great opportunity for the right person to develop and implement advances in the field of anesthesia as an adjunct to modern surgery; he believed Apgar, with her "energy, intelligence and ability," was that person.
Despite anesthesiology not even being recognized as a medical specialty at the time, Apgar accepted his advice, struggling to find a training program following her surgical residency in 1937. She found that program at the University of Wisconsin-Madison — first of its kind in the United States — and spent six months of intensive training with its department head before returning to New York, studying for another six months at Bellevue Hospital.
First woman to head anesthesia dept.
She returned to Presbyterian Hospital in 1938, this time as director of its new Division of Anesthesia within the Department of Surgery, becoming the first woman to head a division there and practice as an attending anesthesiologist. Despite her abilities and new title, Apgar had a hard time finding physicians to work for her. Anesthesiologists were considered inferior to surgeons, as reflected in their lower pay scale. As a result, Apgar was the Division of Anesthesiology's only staff member until 1946. By then, anesthesiology had become recognized as its own medical specialty with required residency training and board certification.
Three years later, Columbia made anesthesia research its own academic department and Dr. Apgar the first female full professor at Columbia University's College of Physicians and Surgeons.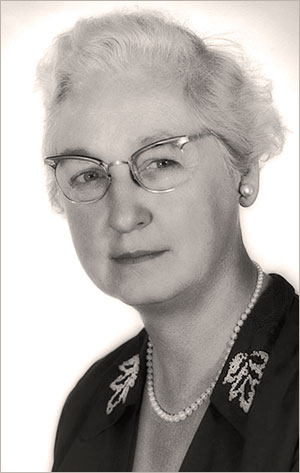 She continued to teach while specifically devoting herself to studying the effects of obstetrical anesthesia on the newborn, with the goal of lowering infant mortality rates. Remember, this was a time when laboring women were routinely put under heavy sedation and general anesthesia; newborns often exhibited respiratory problems and floppy muscle tone due, in large part, to the heavy doses of morphine given in late-stage labor.
Evaluation method
Dr. Apgar realized there was no standard method to evaluate these tiny newborns, often struggling to breathe within their first minutes of life, and provide immediate resuscitation as needed.
By 1952 she had developed a simple, five-point scoring system to evaluate a baby's transition to life outside the womb. Heart rate, breathing, muscle tone, reflexes and skin color were examined at one minute, and again at five minutes, after birth. Each element was given a score — 0, 1 or 2 points — then totaled; a score of over 7 was considered normal. In a study of over 17,000 newborns, her simple, five-point test proved a reliable predictor of neonatal survival. Today the "Apgar Score" is standard practice, performed on babies born in hospitals throughout the world.
Apgar, the procedure
Once her test became standard procedure in delivery rooms across the country, harried medical residents had to come up with a simple mnemonic to help them remember each criterion: APGAR (Appearance, Pulse, Grimace, Activity and Respiration). Dr. Apgar was reportedly amused whenever she met young physicians in training who were taken aback to learn she was actually a real person.
While on sabbatical in 1959, Apgar earned a master's degree in public health from Johns Hopkins University and decided not to return to academic medicine. She would devote the rest of her career to the prevention of birth defects through public education and research. In this new capacity, she became director of the division of congenital defects at the National Foundation for Infantile Paralysis — now known as the March of Dimes.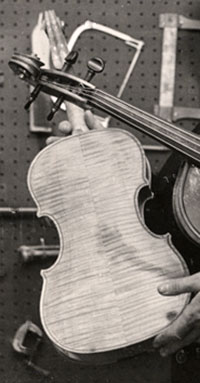 When she wasn't helping to establish anesthesiology as a medical specialty, improving obstetrical anesthesia, saving newborn lives and advancing the study and prevention of birth defects, Virginia Apgar lived a rich, full life. She was an avid gardener, a fly fisherman and student pilot. She was also a skilled violinist and cellist who often played in chamber ensembles, and a talented luthier who was more than capable of making her own stringed instruments.
Exotic wood thief
It was this talent that briefly took Apgar down another path — that of thief. In 1957, a musician friend spotted a beautiful piece of curly maple that would make a lovely back piece for a viola. Problem was, it was a shelf in a pay phone booth at Columbia-Presbyterian Medical Center. Knowing they could never cut through the red tape involved in formally requesting the shelf from the powers that be, Apgar and her friend hatched what described as the "phone booth caper" in a NY Times report of 1975.
They stained a replacement piece of wood to match the curly maple and waited for cover of darkness. Apgar stood lookout while her friend did the dirty work. As she removed the shelf, Apgar watched for the hospital's night watchman. At first sight, she would tap on the glass and her friend would slip a dime in the slot, pretending to make a call. But things did not go well. The replacement shelf was 1/4″ too long. Not to be deterred, the two found a nearby ladies room — her friend armed with a saw and Apgar standing guard. The beautiful piece of curly maple eventually found a new life as the back piece of Dr. Apgar's viola, played by the "Apgar String Quartet" in the 1994 ceremony honoring her commemorative postage stamp. It was later donated to Columbia … where it is now available for rental.
Dr. Virginia Apgar never retired, remaining active until shortly before her death from liver failure in 1974. She died at Columbia-Presbyterian Medical Center, where she had trained and worked for much of her life. Twenty years later, she was honored with her U.S. postage stamp and, a year after that, posthumously inducted into the National Women's Hall of Fame. Her very name, it was said, had become a lifeline for newborns the world over.