Josephine Silone-Yates, the first African American certified to teach in Rhode Island public schools, also became America's first black female college professor and the first black female to head a major college science department. Aside from her role in the field of what would later be called STEM education, she also became a national advocate for the rights of black women.
Born on Long Island, NY, in 1859, she was herself a child prodigy in the sciences in grammar school, excelling in math, physics and physiology. When she was 11 years old, a maternal uncle in Philadelphia suggested Josephine come to Philadelphia to live with him and attend the highly-regarded Institute for Colored Youth. Founded in 1837, the school offered a classic education designed to groom black students for teaching careers. After moving to Delaware County, PA, the Institute for Colored Youth changed its name to Cheyney University — America's oldest African-American school of higher education.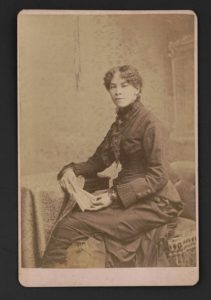 Valedictorian in an all-white class
But young Josephine would only have one year at the Institute when her uncle moved to Washington, DC, to become Dean of the Theological Department of Howard University. She returned home to Long Island and her parents, but soon moved to Newport, RI, to live with a maternal aunt, where she entered Rogers High School in 1874 as the only African American student in her class. While at Rogers, Silone-Yates rounded out her science studies with courses in chemistry. In fact, her chemistry teacher saw such promise in Josephine he pushed her to do extra lab work. Three years later, not only did she graduate as valedictorian and the high school's first black graduate, she had completed her four-year high-school program a year early.
While it seemed only natural Silone would pursue her education at university, she was determined to become a teacher, enrolling in the Rhode Island Normal School (now Rhode Island College) — again as the only African American in her class — and graduating in 1879. When the time came for her to sit for her teacher certification, she aced it with the highest test score ever recorded in Newport, fulfilling her wish and becoming the first African American certified to teach in the public schools of Rhode Island.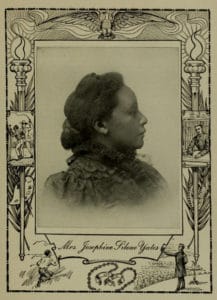 First department head
After teaching for several years, she was offered a position as "female assistant" on the faculty of Lincoln Institute, a college established for black students in Jefferson, Missouri, at a yearly salary of $500. Lincoln (now Lincoln University) was founded in 1866 by African-American veterans of the Civil War. Silone started in 1881, teaching chemistry, botany, physiology and drawing. Within five years, she had risen to become head of Lincoln's Natural Science Department — the first African-American female head of a college Science Department.
Silone soon became known as one of the best teachers in the state of Missouri. She was so well regarded that Booker T. Washington asked her to join the Tuskegee Institution in Alabama as "lady principal," but she declined, preferring to remain at Lincoln, where she eventually earned an annual salary of $1000 as that institution's first woman to be named a full professor.
National Association of Colored Women
When Josephine Silone married Professor William Yates in 1889, she resigned her position at Lincoln Institute. While raising two children, she became active in African-American women's clubs and civil rights organizations. She served as first president of the Women's League of Kansas City and wrote for the Women's Era — the first monthly magazine  published by black women in America. An active member of the National Association of Colored Women, she served two terms as president, traveling the country speaking on behalf of the NACW while earning a reputation as an eloquent author and lecturer.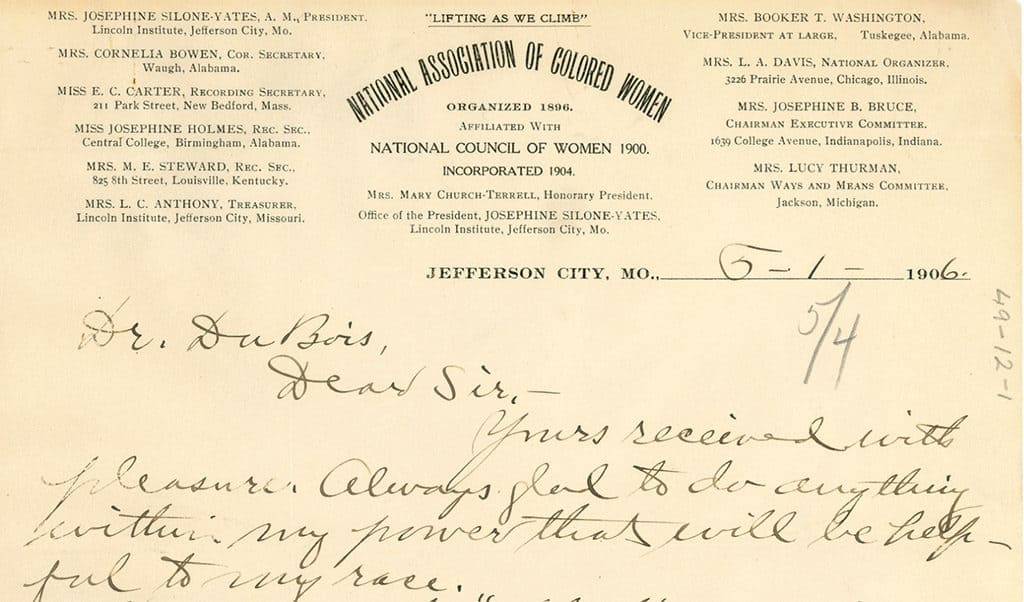 Her work in the African-American women's club movement not only provided Silone-Yates a platform to advocate for herself and other black women; it gave them their own safe spaces to share their unique experiences in navigating American society.
In 1902 she was called back to Lincoln Institute, where she taught drawing and chaired the Department of English and History. Six years later, due to illness, she submitted her letter of resignation to Lincoln, which the Board of Regents refused to accept. Yates remained at Lincoln as advisor to its women students until 1910.
That same year, her husband, Professor William Yates, died and Silone-Yates returned to Kansas City, teaching at Lincoln High School while working for the Kansas City Board of Education. Two years later, she followed her husband, passing away after a short illness in Kansas City, Missouri, in 1912; she was only 52 years old. She is buried next to her husband in Highland Cemetery in Kansas City, MO.