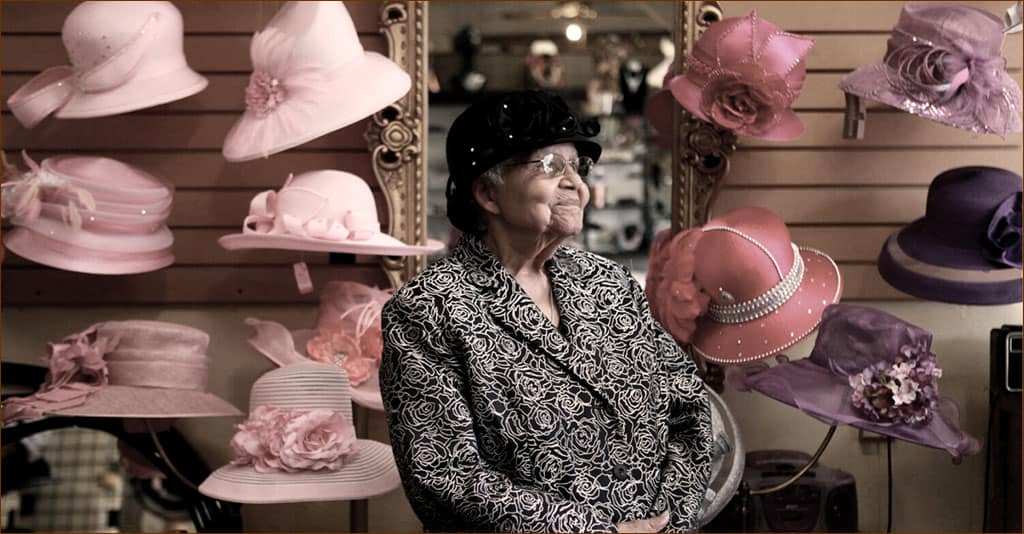 She was a fashion icon, successful entrepreneur, mother, grandmother, and great grandmother — and a centenarian businesswoman with a name so charming you can't help but smile.
Vanilla Beane personified and carried on a tradition deeply rooted in African American culture right up until her death at age 103 — that of THE HAT. She was Washington, D.C.'s oldest legacy business owner, legacy businesses being our cultural anchors and the repositories of community traditions and stories. But to just about everyone in the District of Columbia, she was simply their beloved "hat lady."
Born on September 13, 1919, in Wilson, North Carolina, Vanilla Powell was the youngest of seven children. Her father was a carpenter and farmer; her mother a seamstress who also worked as a laundress in the homes of white neighbors.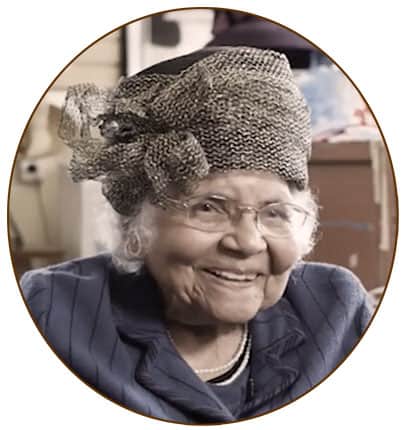 A child of the Great Depression, Powell worked on the farm, where she learned to pick tobacco and cotton. She also took babysitting jobs during the week while receiving her early education at Sugar Hill school, a one-room schoolhouse in North Carolina's Nash County — but never on Sundays.
Sundays were special. They were reserved for services at the Sandy Point Baptist Church, where women sat in the pews dressed in their Sunday best — including their fanciest church hats. Craig Marberry, co-author of Crowns: Portraits of Black Women in Church Hats, described how "the hat tradition grew out of the idea that you were expressing how God had blessed you. The more flamboyant the hat, the more God had blessed you."
Married Willie Beane
Powell graduated from high school in 1940 and followed older sisters Inez Dade and Margaret Harris to Washington, D.C., in hopes of finding a good job. Soon after, she met and married a man named William "Willie" Beane, Sr., a WW II veteran from Virginia. It was at that moment — when she took her vows along with her husband's name, that Vanilla Beane, the moniker that charmed everyone she met, was born. The Beanes settled in Washington, where they raised three children and eventually became grandparents seven times over.
Beane discovered the magic of millinery while operating the elevator in the downtown building where Washington Millinery & Supply Company, owned by Richard Dietrich, was located. She fell in love with the intricate hats and the craft of making them, eventually saving enough money to buy some supplies and start making her own hats.
Working eight hours a day in the elevator, "… you weren't busy all the time, so I would work on my hats." It was 1955 when she "finally got a job with them as a seamstress and supply clerk, where I would straighten up stuff and watch people … the different designers coming in and buying supplies. And I learned by watching them." She eventually left Dietrich's shop, taking a job as a mail clerk with the General Services Administration. But she never stopped making hats. She made them at home and sold them at hat parties.
Bené Millinery Shop
By 1979, Beane had retired from the GSA. So, when Dietrich decided to move his shop to Maryland, she purchased his entire stock of millinery supplies and shop fixtures and established her own hat shop which she named Bené Millinery & Bridal Supplies. At her 90th birthday celebration, Dietrich looked back on hiring Beane as "one of the best moves of my life."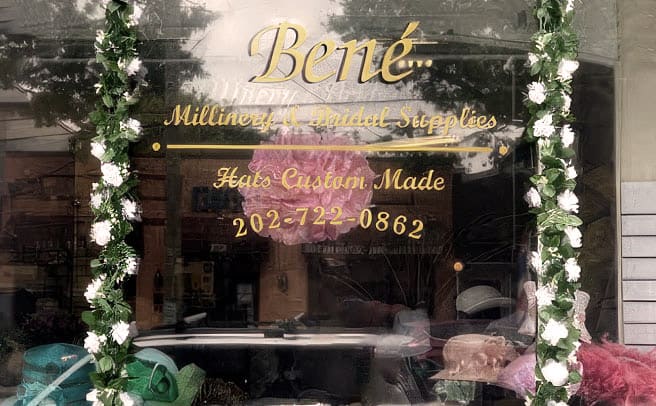 Beane believed in crafting hats the old-fashioned way, by wetting buckram (a stiff cotton) onto head-shaped wooden molds as she sprayed, massaged and coaxed fabrics into cloches, Panamas, sailors, tams and turbans, smoothing out every wrinkle and carefully folding fabric ends to create brims. To her, each hat unfolded like a colorful flower. Working six days a week well into her 100th year, the demanding, detailed work she loved had turned her once nimble fingers stiff and rough. But she wouldn't have it any other way.
To her, the shop was more than just a business. It was a family affair where her daughters helped on weekends and a grandson came in after school. And while it helped support the family, it also provided a haven when her son died in a 1980 boating accident and her husband passed in 1993. To her, the secret to success was hard work coupled with the love of creating and helping her customers.
Church Ladies and Royal Ascot Goers
Those customers included local church ladies and Royal Ascot derby goers; once, by special request, she created a custom crown for a guest attending a birthday party hosted by Oprah Winfrey for Maya Angelou. In return, she received a signed thank-you note from the late poet. But her most notable client was probably late civil rights activist and former NAACP President Emeritus Dr. Dorothy Height. A PBS News Hour writer remembered Dr. Height's elaborate, beautiful hats as "the kind with huge brims, bows and flowers that matched her suits." And at Height's funeral in 2010, the headpieces made by D.C.'s "hat lady" were mentioned by President Barack Obama, who said, "we loved those hats she wore like a crown."
For almost half a century, as she graced her clients with colorful creations of tulle, ribbon, feathers, and bows, she also taught the the rules of THE HAT. "Don't match the hat to the outfit. Just buy a hat you like, and the outfit will come. And never wear your hat more than one inch above your eyebrows. Slant it to look more interesting … and possibly even risqué."
Artistic and Cultural Acclaim
Vanilla Beane was inducted into the National Association of Fashion and Accessories Designers (NAFAD) in 1975. Her hats have been displayed at the Black Fashion Museum in Harlem since 1990 and took their place at the Smithsonian FolkLife Festival in 2013. One is featured in a permanent exhibit at the National Museum of African American History and Culture (NNAAHC) while another, worn by Dorothy Height, graced a USPS stamp. Beane is also featured with other famous milliners in the children's book Tiara's Hat Parade by Kelly Starling-Lyons, illustrated by Nicole Tadgell.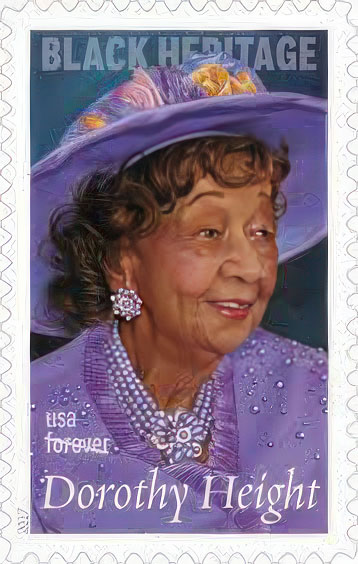 In 2019, Mayor Muriel Bowser declared September 13 "Vanilla Beane Day" in the District of Columbia, honoring her on her 100th birthday as one of the heroines who, though unrecognized, had made substantial contributions to the community. Two years later, the Babson College Academy of Distinguished Entrepreneurs honored Beane at a New York City reception, where she joined previous inductees Berry Gordy, Diane von Furstenberg, Rupert Murdoch, Sir Richard Branson, Earvin "Magic" Johnson and Steve Forbes, Jr. And just one month before her death, Mayor Bowser presented Mrs. Beane with the Mayor's Arts Awards for Distinguished Honor on her birthday. In 2020, Beane was inducted into the Academy of Distinguished Entrepreneurs, whose ceremony that year was pre-empted by the COVID-19 pandemic.
Benjamin Ferry Exhibition
Meanwhile, artist Benjamin Ferry had spent two years studying Vanilla Beane and exploring her shop, Bené Millinery, before mounting his solo exhibition, Hats Off, at Washington, D.C.'s, Gallery Neptune & Brown in 2019. An art teacher at the Holton-Arms School in Bethesda, Ferry paints portraits on commission and taught drawing and painting at the Corcoran College of Art and Design and Georgetown University.
His exhibition featured an array of oil paintings, pastels, and drawings of Beane and her creations. The first time he entered Bené Millinery, he remembered its elderly proprietor staring warily at him before curtly directing him to the men's section in a back corner. When he finally got the courage to blurt out, "I want to paint your portrait and tell people who you are," Beane simply replied, "you know I'm D.C.'s living legend."
Benjamin Ferry presented his body of work to honor Vanilla Beane's artistry and history in celebration of her 100th birthday. In true Vanilla Beane style, when asked if Ferry succeeded in capturing and pleasing her, she replied, "I think there are too many wrinkles and such, but I guess that's what artists do." Adding that everyone in her family liked his paintings, she finally admitted, "I did, too."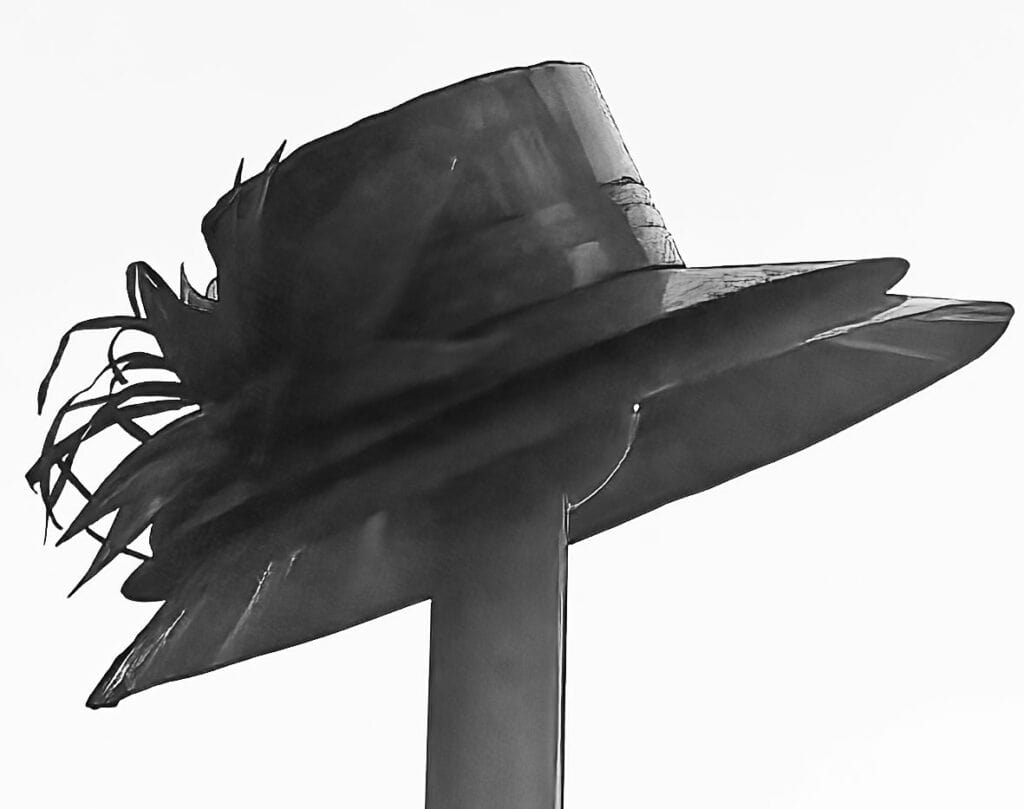 Finally, Vanilla Beane is commemorated on a vintage-style call box outside the National Council of Negro Women's headquarters — the Dorothy I. Height Building at 7th and Pennsylvania Avenue, as part of a citywide initiative to restore the 19th-century structures as works of public art. It features photos of Height with many of America's women's, civil and human rights icons — and in many of them, she wears hats from Vanilla Beane and Bené Millinery. But look up, and you'll see a sheet metal sculpture of a Beane creation perched at a jaunty angle atop the pole over the call box.
Upon her death, Mayor Bowser honored Vanilla Beane with this simple sentence: "Ms. Beane lived until she died — and may we all be so lucky and blessed." The Smithsonian mourned her passing, describing her as, "a warm and gentle person whose soft tone was evident in her handiwork, while her dramatic creations showcased her flare and personality." Of course, each was one of a kind. After all, as Vanilla Beane herself once said, "Nobody wants to walk into a church and see someone else wearing their hat."