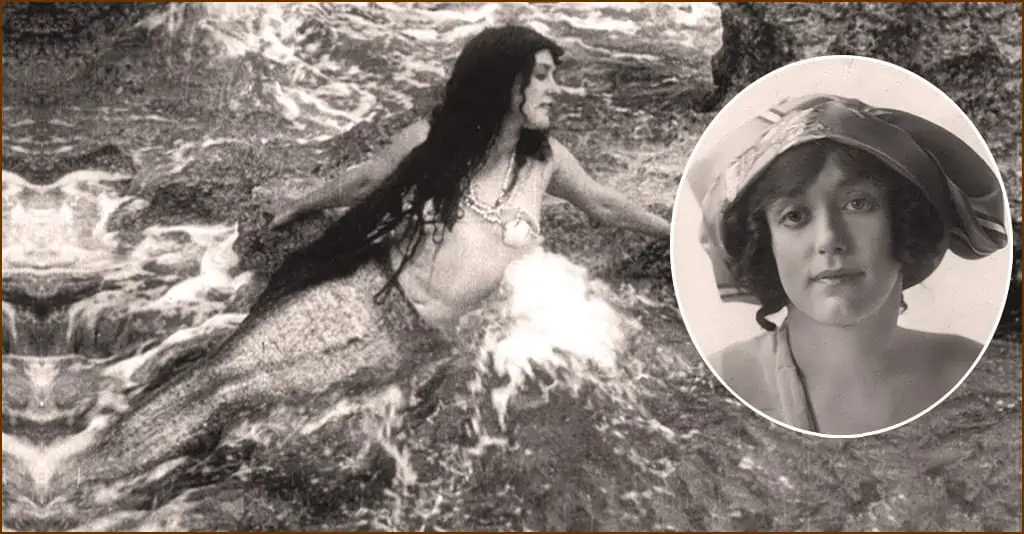 Ever since Disney's aquatic Princess Ariel debuted in 1989, mermaids have become a thing. Before Ariel, there was actress Glynis Johns as a mermaid named Miranda in 1948. And who can forget Daryl Hannah striding ashore in all that strategically-placed hair in the 1980s' movie Splash? But long before any of those film mermaids, there was Australia's Annette Kellerman.
Rickets and leg braces
Annette Marie Sarah Kellerman was born in New South Wales in 1886. At age six, weakness in her legs was diagnosed as rickets, requiring her to wear heavy leg braces. When doctors prescribed swimming to strengthen her legs, Kellerman's parents enrolled her in swim classes at Cavill's Floating Bath near today's famous Sydney Opera House. Little did they know the doctor's orders would do more than strengthen Annette's legs; they changed her life.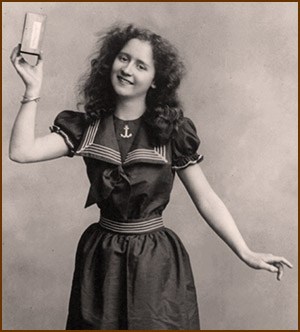 By age 13, her legs were almost normal. Two years later, having mastered every swimming stroke, she was winning races. And as a student at the local school where her mother taught, she performed her first mermaid act, swimming with fish in a glass tank at a nearby aquarium.
Kellerman vs. the English Channel
In 1905, at the age of 18, Annette Kellerman moved to Europe, determined to swim its famous rivers. First was a 26-mile swim of the Thames, followed by a race in the Seine, where she placed third against 17 male swimmers. After winning a 22-mile race in the Danube, she set her sights on the most grueling test of a swimmer's mental and physical endurance at the time — the English Channel.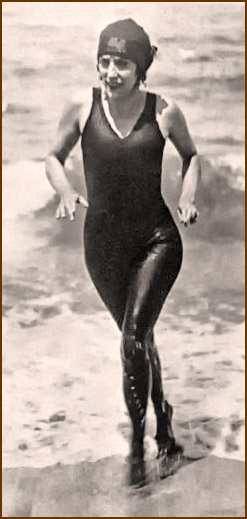 Open-water swimming was as popular at the turn of the century as baseball and football are today. So when Kellerman took the plunge, she captured the world's attention. Wearing a man's one-piece racing suit, her body smeared with porpoise oil, she swam for 10 hours, almost three quarters of the way across, before throwing in the towel and admitting she "had the endurance but not the brute strength." Kellerman would attempt the English Channel three times without success, her gritty perseverance adding to her popularity. Twenty-one years would pass before Gertrude Ederle became the first woman to successfully swim the Channel.
Vaudeville and the Royals
Having taken on Europe's rivers, Kellerman turned to vaudeville and the London Hippodrome, with its 100,000-gallon water tank for aquatic spectacles. The perfect venue for her act involving a mermaid performance and underwater ballet, it was there she caught the eye of Prince Arthur, Duke of Connaught and seventh child/third son of Queen Victoria. In 1905, she was summoned for a royal performance at London's Bath Club — an exclusive, sports-themed gentleman's club. But on one condition: she had to cover her legs out of respect for British propriety.

While it was inappropriate for her to wear her customary man's racing suit, she knew she couldn't perform in a woman's bathing costume with its yards of heavy fabric. So Kellerman decided to sew a pair of black silk tights to the legs of the one-piece suit at mid-thigh level. The result? A sleek black bodysuit that covered her from neck to toes while allowing complete freedom of movement. The suit became so popular it was known simply as "The Kellerman," a garment that revolutionized women's swimwear.
Mermaid in America
From London, Kellerman was invited to demonstrate diving and swimming techniques at what was, in 1906, America's largest recreational park — Chicago's White City Amusement Park. From there she headed east to Boston's Wonderland Amusement Park at Revere Beach. Amazed at how American women dressed for the beach — corsets, black woolen dresses with puffy sleeves, bloomers over long black stockings, bathing shoes and frilly swim caps; according to Victoriana Magazine, she was quoted as saying, "I can't swim wearing more stuff than you hang on a clothesline."
So Kellerman arrived at Revere Beach in her customary one-piece suit … and was promptly arrested for indecency. A Boston judge ruled she could wear the suit as long as she covered it with a full-length cape until she reached the water's edge. While Kellerman followed the judge's orders, she soon began marketing her sleek one-piece in America as "the Annette Kellerman Sun-Kist swimsuit."
The Perfect Woman
Though proper Bostonians gasped and clutched their pearls over such scandalous exposure of the female form, Harvard University's Dr. Dudley Sargent saw something entirely different. A phys-ed professor at a time when the physical culture craze took hold at America's universities, Sargent was busy collecting data for a study that, today, is sketchy bordering on creepy.
Taking 65 different measurements from 10,000 female college students, he compared them to the Venus de Milo, considered the most perfectly formed woman of ancient times. Adding Kellerman to his study in 1908, he pronounced her body as coming closest to those classical proportions, embodying "all the physical attributes most of us demand in the Perfect Woman."
Kellerman supposedly found the label "ghastly." But the lifelong vegetarian, teetotaler and savvy businesswoman put her feelings aside long enough to write three books and launch a mail-order diet/fitness program followed by 40,000 women who were promised they, too, could "have a figure as perfect as mine."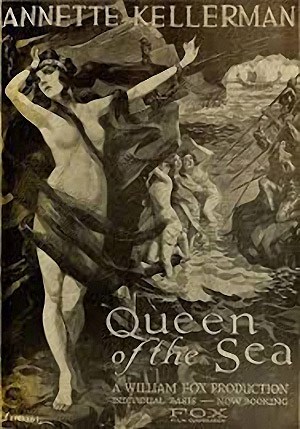 Siren of the Silver Screen
Annette Kellerman left vaudeville for Hollywood when she convinced a writer-director to script her idea for an underwater fantasy film called Neptune's Daughter in 1914. Contributing the story line, stunts, locations and camerawork to the production, Kellerman's level of control put her in the same league as some of Hollywood's most powerful stars of the day, including Mary Pickford, Charlie Chaplin and Douglas Fairbanks. She became one of the highest-paid stars of her time, with audiences standing in long lines to see her perform in her famous, form-fitting costumes.
The first Australian woman to star in American films, she was also the first actress to wear a swimmable mermaid costume in the appropriately-titled film The Mermaid. Years later, Esther Williams starred in a splashy Busby Berkeley 1952 remake of Kellerman's life titled Million Dollar Mermaid, the title taken from Kellerman's Neptune's Daughter being one of the first movies to take in $1 million at the box office.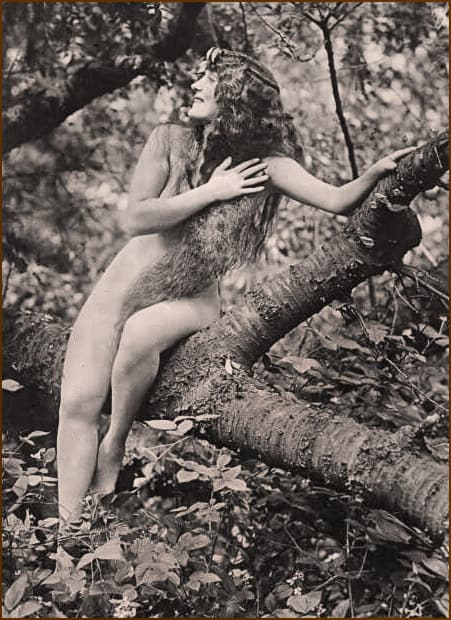 First naked Hollywood star
She was also the first actress to appear naked on the silver screen in her 1916 film, a three-hour production titled A Daughter of the Gods that, at $1 million, was the most expensive film ever made. It, along with most of her film work, has been lost to time. Only one Kellerman silent film exists in its entirety — her 1924 Venus of the South Seas was restored by the Library of Congress in 2004.
Along with being an athlete, writer, vaudevillian and Hollywood star, Annette Kellerman was a passionate advocate for women's health and fitness, which she saw as an extension of women's rights. In a 1909 lecture before an all-female audience in New York, she declared that "if more girls would swim and dance and care for athletics instead of rushing into matrimony as the only joy in the world, there would be fewer divorces." She then stripped off her black velvet gown under which was her one-piece swimsuit, and jumped into a water tank, putting her money where her mouth was. A reporter from the Cincinnati Enquirer was moved to write "many a woman went away vowing to learn to swim even if she had to break the ice to do it."
In 1915, she described her motivation as a performer, film star, athlete and role model for what she saw as the new American woman: "Swimming for women … can engender self-confidence, and in the art and science of swimming, a kind of equality, even superiority to that of men. " To that end, she saw sensible clothing as part of women's emancipation.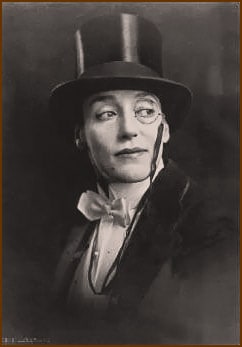 Kellerman also promoted swimming as a public health issue at a time when most drowning deaths were women and children. Not only did women's heavy woolen bathing costumes restrict movement; when wet, they became heavy weights that tangled between women's legs and wound around their bodies. Kellerman used her suit to give female swimmers more mobility, with its sleek line and lighter weight. And though she had her critics, who could argue when the issue was public health and women's safety?
A Mermaid Returns to the Sea
Annette Kellerman married her long-time manager and collaborator, James Sullivan, in 1912. The two played an active supportive role during World War II, producing popular charity shows to raise money for the Red Cross.
They returned to Australia's Queensland in 1970, where Kellerman lived out her final years. She continued to swim until a short time before her death. Just six days after her husband of many years had passed, Annette Kellerman died at the age of 88 in 1975. Her ashes were scattered across the Great Barrier Reef in the Coral Sea off the coast of her native Australia.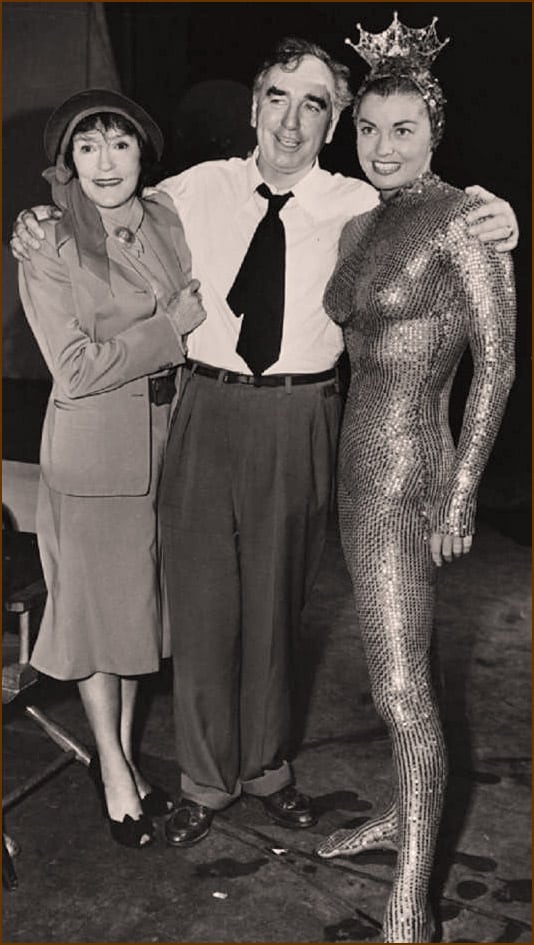 Legacy
Annette Kellerman, Hollywood's original mermaid, was inducted into the Hollywood Walk of Fame in 1960; her star is in front of the Magic Section of Hollywood Toys & Costumes at 6608 Hollywood Boulevard. She was honored by Fort Lauderdale's International Swimming Hall of Fame in 1974.
In Australia, her costume collection was bequeathed to the Sydney Opera House, near the site of her childhood swim classes, while smaller personal items are housed at Sydney's Powerhouse Museum. Her personal papers are archived at The Mitchell Library in New South Wales. The Annette Kellerman Aquatic Centre opened its doors in 1994, and an award-winning Australian documentary titled The Original Mermaid was produced in 2002.
Annette Kellerman once write, "My early physical misfortune turned out to be the greatest blessing that could have come to me." She overcame that misfortune to become an athlete; actress; writer; stuntwoman; a costume designer who revolutionized women's swimwear; a women's health and fitness advocate; charity fundraiser; performer of the first water ballet; and is credited with inventing the sport of synchronized swimming.
And although she once shocked Victorian sensibilities with her one-piece swimsuit, she was no fan of the new-fangled bikini when it debuted in the 1940s, declaring it "… a mistake. Only two women in a million can wear it. And it's a very big mistake to try."